Most Common Words with Examples:
Noisy –
It's noisy next door.
Evidence –
There's no evidence.
Until –
Wait until dark.
I can't go until he comes.
Grow –
My father grows rice.
Gave –
She gave him a present.
He gave it to me.
A lot –
I have a lot to do today.
Become –
He became famous.
Real –
These pearls look real.
Pastor –
Bob became a pastor.
Hug –
The woman hugged the baby.
Preacher –
The preacher gave a beautiful sermon.
Sense –
You have no sense of direction.
Future –
Nobody knows the future.
Locate –
I couldn't locate my passport.
Exciting –
The game became exciting.
Kind –
Be kind to old people.
Thunder –
The thunder became louder.
Storm –
The storm sank the boat.
View –
It is a nice view from here.
Unless –
Don't move unless I tell you.
You can also read this: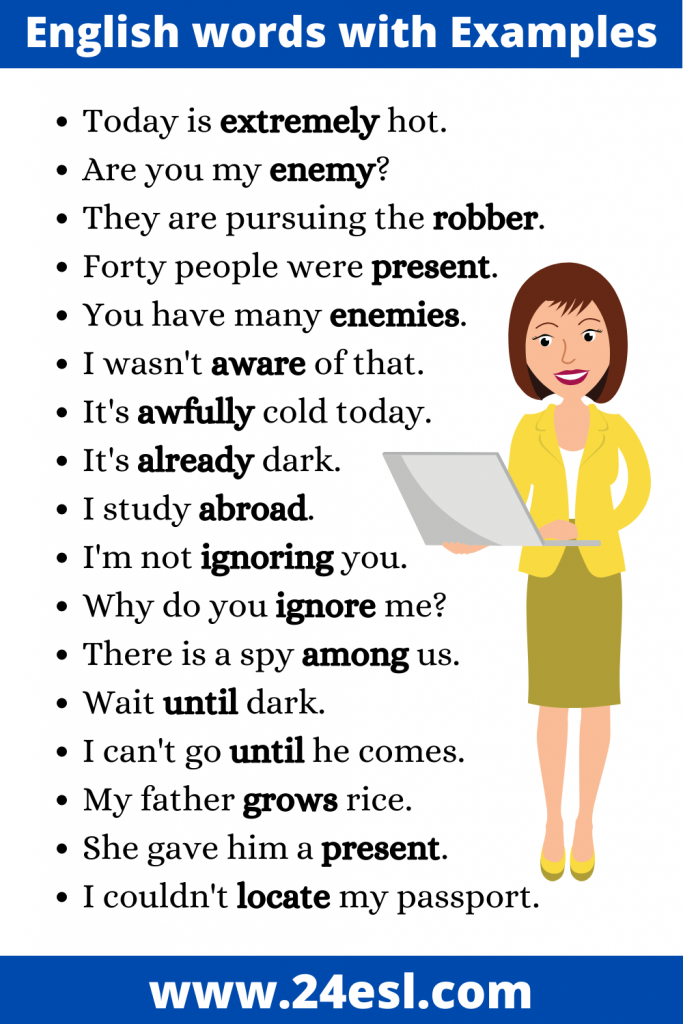 Most common words in English
Most Common Words With Examples:
Extinct –
Dinosaurs are now extinct.
Foretell –
No one can foretell the future.
Behind –
Look behind you.
Noisy –
I couldn't sleep well because it was noisy outside.
Schedule –
I'll check my schedule.
Extremely –
Today is extremely hot.
Enemy –
Are you my enemy?
Pursue –
They are pursuing the robber.
Present –
Forty people were present.
Certain –
I am not certain about that.
Aware –
I wasn't aware of that.
Awfully –
It's awfully cold today.
Already –
It's already dark.
Particular –
My father is very particular about food.
Study –
I study abroad.
Gradually –
The train gained speed gradually.
Ignore –
I'm not ignoring you.
Why do you ignore me?
Among –
There is a spy among us.
You can also read this: